The fear of heather reignites the passion of the designer of the De Ocampo fashion house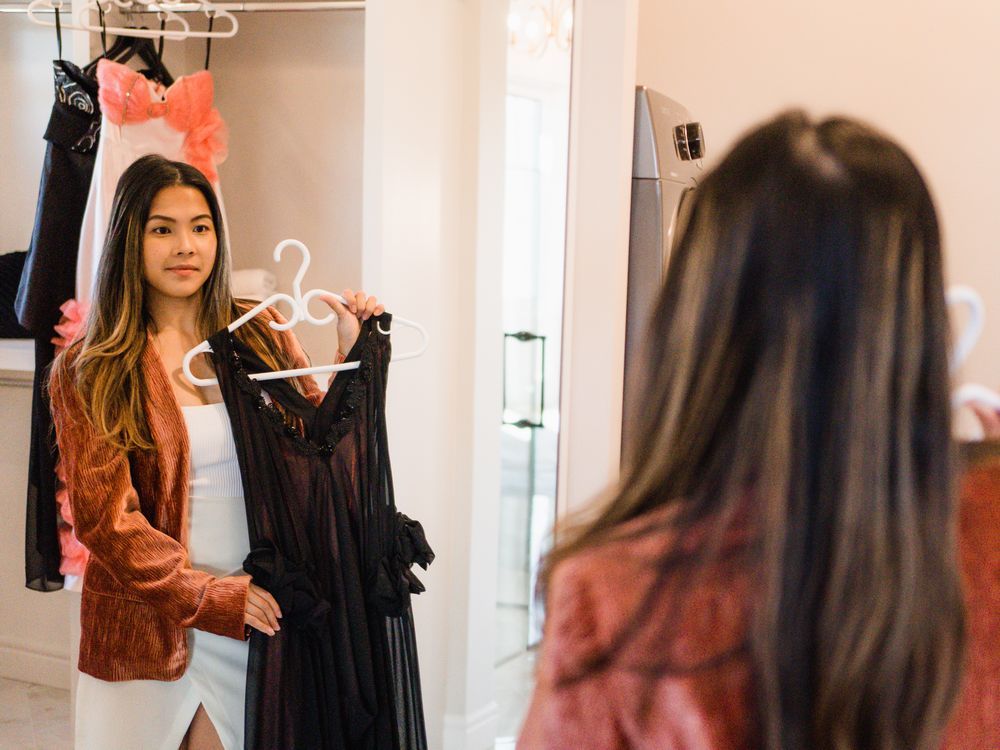 Owner Andrea De Ocampo will present her retrospective collection, Time Capsule, this Sunday at Foundry on Whyte.
Reviews and recommendations are unbiased and products are independently selected. Postmedia may earn an affiliate commission on purchases made through links on this page.
Content of the article
A health scare three years ago caused Andrea De Ocampo to re-evaluate her journey in the Edmonton fashion world.
Content of the article
"The incident made me realize, OK, I can't wait until I'm 40. I can't wait until I'm even 30. My time isn't guaranteed – nobody's time is guaranteed," says De Ocampo.
The 26-year-old owner of De Ocampo Fashion House will present her retrospective collection, Time Capsule, this Sunday at Foundry on Whyte.
The event will showcase De Ocampo's previous catwalk collections and private pieces created over the past decade. This includes her high-necked 9-5 belted jacket that she designed in partnership with Issue Magazine in 2020. De Ocampo will also feature designs from her sister brand, Partyz Over, a more affordable brand for young professionals.
"It's more like a pop-up museum," says De Ocampo of Time Capsule, which she sees as more of an exhibit. "It's going to be quite an experience that will basically make you feel like you're in New York City."
Content of the article
A Hudson's Bay shopper met De Ocampo during his college years and told him that his style and aesthetic were representative of the Big Apple. She took it as a big compliment and has embraced it ever since.
At 15, she was the youngest winner of Western Canada Fashion Week's Emerging Designer Competition. This current collection will include designs that debuted there in 2012 and two of her final dresses shown at Vancouver Fashion Week the same year.
As a second-generation Filipino Canadian from an immigrant family, she was expected to pursue a more traditional career path, so there was little support from her immediate family as she navigated her place in the fashion world.
It was De Ocampo's cousin who was studying fashion in Los Angeles who piqued her interest and encouraged her to enter fashion contests. She started googling different events in Edmonton and self-funded as a competitor and new creative.
Content of the article
"Everything about paying to enter the contest, paying for fabrics, building things on my own – it was just myself," says De Ocampo. "I had the help of an aunt who was amazing to have, kind of taught me the basics of sewing because I didn't go to school for fashion at all."
After making his mark at Western Canada Fashion Week 10 years ago, one of his biggest supporters was his grandmother, who gave him a sewing machine and a serger, commonly known as a serger, tools expensive that De Ocampo was lucky enough to receive. at first it helped his efforts.
These contests caught De Ocampo's attention, particularly from the owner of a high-end boutique on Granville Island. At 16, she was offered a job as an in-house designer but made the difficult decision to turn the offer down in order to finish high school.
Content of the article
"The tough call of being at that fork in the road, of being so young – yes, I had all that momentum, all that publicity. I could have raced with it but at the same time there's also a huge risk, I don't have a back-up plan. I'm not finishing high school, not even university; how am I going to finance my dream?" says De Ocampo.
With a background in human ecology from the University of Alberta, De Ocampo now has a successful career in an international company, allowing her to pursue her passion on the side.
De Ocampo hopes to make her next showcase a more accessible platform for interested people from all walks of life and reconnect with the fashion community which she says has a small local base. She priced tickets at a fraction of what some other shows charge and intentionally chose Sundays because of the free parking offered by the city.
Time Capsule takes place Sunday at 3 p.m. at Foundry on Whyte, 10426 82 Ave., and tickets are $11.62 on Eventbrite.